A graph of France's recent World Cup history would look like the teeth of a saw, offering a sharp reminder that although they are deservedly among the favourites to be crowned world champions in Moscow next month, there is no guarantee things will run smoothly for an extraordinarily gifted side.
France's greatest triumph in the tournament, in 1998, came between two biting failures, as they did not even qualify in 1994 and departed the 2002 edition without so much as scoring a goal. After reaching the final again in 2006 they flopped out of the 2010 tournament amid bile and farce. So senior French players, in particular, do not need to be told that dreams can give way to humiliation if focus blurs, standards slip, nerves fray or even just if fortune looks askance at their side.
"I think of 2002, for example, when we had players such as [David] Trezeguet and [Thierry] Henry, who were young and went into the tournament in incredible form but it was a failure," says the midfielder Blaise Matuidi. "So we have to be careful."
Matuidi mentions Trezeguet and Henry not because they were especially blameworthy for the flop in 2002 but because they, both 24 at the time, were youngsters who did not make the expected impact – and that was despite the fact they had contributed to glory in the previous World Cup and also prevailed at the 2000 European Championship. The France squad feature several far greener players – such as Kylian Mbappé, Thomas Lemar, Ousmane Dembélé and Corentin Tolisso – who excel at top clubs but who have yet to sample a major tournament. Matuidi says that with the second-youngest squad out of the 32 competing nations in Russia, France will need their seasoned campaigners, as well as the manager, to help spread serenity, even if they are edged out of the starting lineup, as Matuidi may be by the 23-year-old Tolisso.
"The World Cup is a level above and for a lot of the players this will be their first," says the 31-year-old Matuidi. "It's important to have talented players but you need experienced ones, too. We have some, including myself. We have a nice mix. Being fresh to these things can be an asset but we also have to be on our guard. That's the role of us older ones, to try to transmit calmness.
"Having said that, although the new players are young, they are already very mature. Take Kylian Mbappé, for example. He's only 19 but he's very intelligent, very mature and surrounds himself with good people."
At least there seems little risk of French in-fighting this time. Didier Deschamps, who took over in the wake of rank and rancorous displays at the 2010 World Cup and the 2012 European Championship, has strived to foster a wholesome atmosphere, shunning players whose influence he apparently does not consider to be positive, most notably Karim Benzema.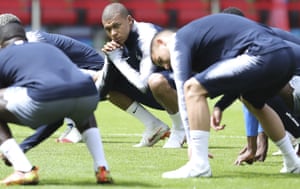 It helps that Deschamps has an array of other high-class options to call on. France have so much quality that over-confidence would be understandable, especially given a favourable group draw alongside Australia, Peru and Denmark. But there is no risk of complacency taking root.
"When people say they think we can go far in the tournament, I say 'We think so, too'," Matuidi says. "Confidence is good but too much is dangerous. We are well aware that this is going to be a tough competition and other teams will be waiting for us, working on ways to snuff out our strengths. We certainly don't underestimate the size of the challenge we face. But at the same time, I don't envy any other team. We have players of huge quality in every position."
France's biggest problem may be that Deschamps has yet to show he has found the best way to combine those players into an all-conquering team. While he has generated a united spirit, the paradox of Deschamps' reign is that in six years he has yet to imbue his side with a clear method and iron resolve, the qualities for which he has been synonymous since his glorious playing days.
France were inconsistent throughout the qualifiers and hinted at fragility even during the friendlies, such as when they frittered away a two-goal lead before losing 3-2 at home to Colombia in March or when they struggled to a 1-1 draw with the USA last weekend. They have a tendency to alternate between brilliance and stodginess. There are question marks about the formation and lineup Deschamps will use when France open their campaign against Australia on Saturday.
Matuidi says Deschamps' first two tournaments as manager brought progress and the team could be ripening at exactly the right time.
"We did very well in the last two competitions," he says. "The manager did some great things. He took over at a complicated time after 2012 and he got everyone together and put us on the right path. In 2014 we went out in the quarter-finals to the eventual champions, which was pretty good for a team in renewal. And we got to the final of Euro 2016. Yes, we could have won it but that's football. Let's hope we're going to reach the crescendo this year."