Marco Penge secured a DP World Tour card for 2024 after comfortably winning the Challenge Tour Grand Final at Club de Golf Alcanada by six shots and being crowned 2023 Road to Mallorca champion.
Penge began the final day's play on seven-under, just a shot ahead of Frenchman Tom Vaillant, but quickly recovered from an error on the first to pull away as Vaillant's putter went stone cold.
It was a near faultless week for the Englishman, with three rounds of 69 or better, one level-par performance and a final score of 10-under proving his dominance - despite gusty winds throughout on the coastal course.
Victory in Mallorca was the 25-year-old's second Challenge Tour win this season following a four-shot success at the Open de Portugal at Royal Óbidos in September.
But speaking about his most-recent double achievement after coming off 18 on Sunday, Penge said: "It's unbelievable. Especially considering where I was about eight weeks ago - I think I was about 83rd on the rankings. 
"To be here saying I've won twice on the Challenge Tour, and I think I've won the overall rankings [competition]... it's hard to imagine. It hasn't quite sunk in yet."
Penge suffered an early wobble at Club de Golf Alcanada when he pulled his second shot at the first out of bounds and could only recover to make bogey. The response was indicative of the Englishman's quality, though, as he strung five consecutive pars together before bagging a couple of birdies prior to the turn.
Three further birdies for The Caversham-based player followed as his French playing partners struggled to create any kind of positive momentum. 
And although there was a late bogey added to the card, Penge was already home and dry and simply relying on the field settling down before he could be confirmed as the season-long champion.
While there was plenty of cause for celebration among Penge's group - with all three booking full-time DP World Tour cards and making up the top-three spots at the season-ending event - 18 other players won playing privileges on the global tour next year.
Casey Jarvis - who missed out on becoming the first South African to claim the Challenge Tour crown by just seven points - Manuel Elvira, brother of DP World Tour pro Nacho, and Brandon Stone were among the notable names to move up next season.
Matteo Manassero and Alex Fitzpatrick were already assured of their rights for 2024, but Welshman Stuart Manley finished around three hours before the leaders on Sunday and faced a painful wait before finding out he had nabbed the 21st and final spot in the 2023 Road To Mallorca Rankings.
That left Brandon Robinson Thompson in the worst spot of them all - 22nd - and one space outside of the magic number, just ahead of Benjamin Follett-Smith, Jamie Rutherford, and Ashley Chesters.
Challenge Tour Grand Final Leaderboard
-10 Penge
-4 Vaillant
-3 Lacroix
-1 Bairstow, Robinson-Thompson
Updates from
FINAL ROAD TO MALLORCA RANKINGS
1st - Marco Penge
2nd - Casey Jarvis
3rd - Manuel Elvira
4th - Ugo Coussaud
5th - Jesper Svensson
6th - Adam Blomme
7th - Lorenzo Scalise
8th - Andrea Pavan
9th - Matteo Manassero
10th - Ricardo Gouveia
11th - Alex Fitzpatrick
12th - Tom Vaillant
13th - Frederic Lacroix 
14th - Francesco Laporta
15th - Will Enefer
16th - Ivan Cantero
17th - Joel Girrbach
18th - Sam Bairstow
19th - Brandon Stone
20th - Maximillian Rottluff
21st - Stuart Manley
CUT-OFF LINE
22nd - Brandon Robinson Thompson
23rd - Benjamin Follett-Smith
24th - Jamie Rutherford
25th - Ashley Chesters
26th - Euan Walker
27th - Oliver Farr
28th - JJ Senekal
29th - Conor Purcell
30th - Julian Suri
PENGE WINS CHALLENGE TOUR GRAND FINAL AND SECURES NUMBER ONE RANKING IN ROAD TO MALLORCA
That was outstanding form Marco Penge. The whole day - after the first hole - has featured simply stunning golf. Penge taps in for par and a final round of 69, clinching the Challenge Tour Grand Final title and the number one spot on the Road To Mallorca.
Tom Vaillant ends on four-under in second after a final-day 74, while Frederic Lacroix shot 71 on Sunday to finish third on three-under.
Final Road To Mallorca Rankings to follow...
CLASSY APPROACHES FROM FINAL GROUP
After all three in the final group find the fairway on 18, Penge sticks it on the right side of the green, Lacroix finds the left portion, but Vaillant flicks a superb approach just behind the flag and will have a straightforward birdie chance.
The trio bask in a warm round of applause as they make their way onto the green, and they can all take a huge sigh or relief - it's almost a done deal.
PENGE MAKES BOGEY
Well, goodness me! Marco Penge has missed a putt. That seven-shot lead reduces slightly after the Englishman misses right from eight feet on 17. He's still six shots in front going down the last, mind...
Tom Vaillant has been a rollercoaster ride to watch this afternoon. He will be superb on the DP World Tour. The Frenchman pops a 100-foot putt slightly into the air upon contact, but the ball still trickles its way down to hole-side. He gives several smaller fist pumps in a row. He loves it!
Lacroix just about misses from range, but he's still in for par. 
One hole to go...
ROBINSON-THOMPSON MISSES BIRDIE PUTT
That looks like it could be it, then! Robinson-Thompson is projected to end 22nd while Stuart Manley holds onto the final card. The putt from BRT just slid to the right from 15 feet. Moments later, Sheffield's Sam Bairstow taps home to finish 18th.
A par at the last for a round of 71 ???? Sam Bairstow has clinched his 2024 DP World Tour card, having started the week outside the graduation spots. #RolexGrandFinal pic.twitter.com/D4madGRawgNovember 5, 2023
ONE PUTT TO CHANGE IT ALL
Bairstow and Robinson-Thompson have played strong approach shots into the 18th green. The former is in a stronger position, in terms of a top-21 finish, while the latter effectively faces one shot to decide whether he makes it or not. This is incredible drama!
STUNNING FROM BRT
Robinson-Thompson needed two birdies on his final two holes to usurp Manley into the final RTM spot, and he's completed the first half of his task in some style! After pushing his tee shot right on the par-three 17th, BRT faced some 50 feet of straight putt before the hole. In truth, it looked in all the way. The Englishman is one-under for the event and within a shot of booking his DP World Tour card.
How important is that! @BRTtoursauce birdies the 17th and needs one more birdie to take the final place in the projected Road to Mallorca Rankings. #RolexGrandFinal pic.twitter.com/t7Hb2DQtTuNovember 5, 2023
OUTSTANDING VIEWS IN MALLORCA
What a backdrop to play golf against...
PENGE CLOSES IN ON VICTORY
Vaillant rolls in a brilliant birdie on 15 to continue his upward turn, and he is closely followed by compatriot, Lacroix. They are four-under and three-under, respectively.
But Penge upstages both of them via yet another birdie, and he is seven shots clear with only three holes to play. This has been an outstanding performance by the Englishman.
ROBINSON-THOMPSON FIGHTS ON
Just before Penge escaped with a par on 14, Brandon Robinson-Thompson found another birdie to move back to level par for the tournament. As things stand, the Englishman is projected 23rd on the RTM. He probably needs one more birdie to make it, although that would be bad news for Stuart Manley.
VAILLANT RESPONDS AS PENGE KICKS ON
The Vaillant fist-pump is back. The Frenchman pops a lovely chip onto the green at 13 and watches on as it releases to about a foot away from the hole. He's back to three-under via a birdie.
Lacroix can't even find the green with his first chip and he will throw away a chance to take a shot from the course. He remains at two-under.
Guess who's slotted home another birdie, though? Penge pushes his ball up the hill and tumbling into the cup for 10-under par. Four birdies in seven holes for Marco.
MANASSERO IS BACK ON TOUR
From an almost identical spot to Jarvis earlier, Matteo Manassero sends in a magnificent putt to finish off his season in style.
A birdie on the last for @ManasseroMatteo ???? He will finish inside the top 20 on the Road to Mallorca to claim a 2024 DP World Tour card!#RolexGrandFinal pic.twitter.com/dgZN9SvmRdNovember 5, 2023
PENGE LEADS BY SEVEN WITH SIX HOLES TO GO
After the Englishman pars the 12th, he is back up to first in the RTM standings as well due to a handful of birdies by the field, dropping Casey Jarvis back into a tie for seventh. Meanwhile, Vaillant succumbs to a sixth bogey of the day, immediately after finding his second birdie. 
ROAD TO MALLORCA STANDINGS
We are coming down the closing stretch in Mallorca. This is how the current season standings lie around the all-important mark.
18th - Brandon Stone
19th - Max Rottluff
20th - Stuart Manley
21st - Sam Bairstow
CUT-OFF LINE
22nd - Benjamin Follett-Smith
23rd - Jamie Rutherford
24th - Ashley Chesters
25th - Euan Walker
26th - Brandon Robinson-Thompson
VAILLANT PULLS ONE BACK
While Penge and Lacroix are unable to find a four on the par-5 11th, Tom Vaillant does roll a putt in to move back to three-under. He's now second on his own and finally has a much-needed shot of confidence.
Elsewhere, one of the players who could move back to level par and potentially cost Jarvis the Challenge Tour title - Robinson-Thompson - has scrambled a par and continues to play with a smile on his face. What a great attitude BRT appears to have.
ELVIRA JOINS HIS BROTHER ON TOUR
Manuel Elvira signs off on seven-under par and will join his brother Nacho on the DP World Tour next season. A Fitzpatrick v Elvira foursomes would be good to watch at some point...
MANLEY WON'T WATCH
Based on the current projected rankings, Welshman Stuart Manley is set to be the final man to secure a full-time DP World Tour card. The 44-year-old, speaking to Sky Sports, says he won't be watching the coverage this afternoon. Maybe he'll be reading this instead? Hi Stuart! Fingers crossed for you! 
All @stu_manley can do now is wait. #RolexGrandFinal pic.twitter.com/b7PqpUlymTNovember 5, 2023
YOUNG, WILD, AND CASEY
The youngest player in the field, Casey Jarvis, fires in a massive par putt - both in length and meaning - to remain top of the RTM Rankings. Despite carding an 80 on Thursday, the 20-year-old has ended the week one-over thanks to a final round of five-under. There had never been a South African Challenge Tour winner, until 2023. Casey Jarvis has a strong chance to do it.
What a finish Casey Jarvis! A four under par back nine sees him projected to number one on the Road to Mallorca Rankings. #RolexGrandFinal pic.twitter.com/knXruGAEM5November 5, 2023
OFF-COLOUR PENGE LEADS BY SEVEN
On the TV coverage, they have just revealed that Penge is drinking Coca Cola as he's been struggling with cramp and feeling a little unwell so far this week. He's now out to nine-under and leads by seven after draining a winding putt from his left. 
Elsewhere, good news for Vaillant! He rolls in a mid-range par putt to remain at two-under for the tournament. The Frenchmen are still fighting here - both Vaillant and Lacroix escape with pars thanks to a pair of class bunker escapes.
LEAD OUT TO FIVE
Penge rolls home an eight-foot birdie putt with ice in his veins. He looks like he's playing a different course today. That would appear the case, especially in relation to his playing partners as Lacroix bogeys the ninth.
Meanwhile, Tom Vaillant's nightmare day continues as he sees a horrible lip-out. His puppy-dog eyes after tapping in for bogey tell their own story. He wants the ground to swallow him up after a fifth bogey on the front nine. But he's still 21st in the RTM Rankings and he has the scoreable back nine to come. Come on, Tom. Keep going.
CASEY JARVIS ON THE HUNT
Even though Penge holds a four-shot lead in this final event of the campaign, Casey Jarvis is lighting it up on the back nine and is currently projected to win the season title. The South African has managed four birdies in his past five holes to fire himself up to sixth on the leaderboard at one-over.
VAILLANT ON THE SLIDE
Penge produces a lovely bunker shot to escape from the 8th with a par. He popped the ball back in his stance, leant slightly forward, and whipped his ball up into the air before watching it rip to the right and stop a couple of feet away.
Lacroix does well to only drop a single shot via a two-putt from range, but Vaillant misses a painfully-close tap in and also falls back to three-under. This putting performance is the stuff of nightmares for Vaillant.
FOUR PLAYERS UNDER PAR
The pressure appears to be mounting on everyone as Lacroix sends a wild drive out of bounds left off the tee on the 8th. Only a quartet of this field are under par for the entire event. Penge, Lacroix, Vaillant, and Sam Bairstow. Tough sledding.
PENGE AND VAILLANT BAG BIRDIES
Penge finally finds a birdie! A tricky right-to-left slider puts him three shots clear at the top. He's back to level par for the day and looking all-but home and dry already.
And now Vaillant secures a birdie too! They're all at it. Robinson-Thompson has just recorded his second double bogey of the day and has dropped out of the top-21. Both of those incidents mean the Frenchman is back up to 16th. What drama!
.@PengeMarco leads by three shots and is projected to win the Road to Mallorca Rankings ???? #RolexGrandFinal pic.twitter.com/2sd8MnU87aNovember 5, 2023
BUBBLE BOYS THREATEN TO POP
Suri (27th) makes bogey on eight courtesy of a missed short putt and loudly curses before tapping in. Moments later, Robinson-Thompson (21st) slings one out of bounds left off the tee and is forced to drop ahead of his third shot. The Englishman now needs to chip in from off the front of the green if he is to not drop back.
Having dropped out of the top-21 for the first time today, Vaillant (22nd) has a birdie chance to recover on the seventh via a wonderful iron approach.
CLUB DE GOLF ALCANADA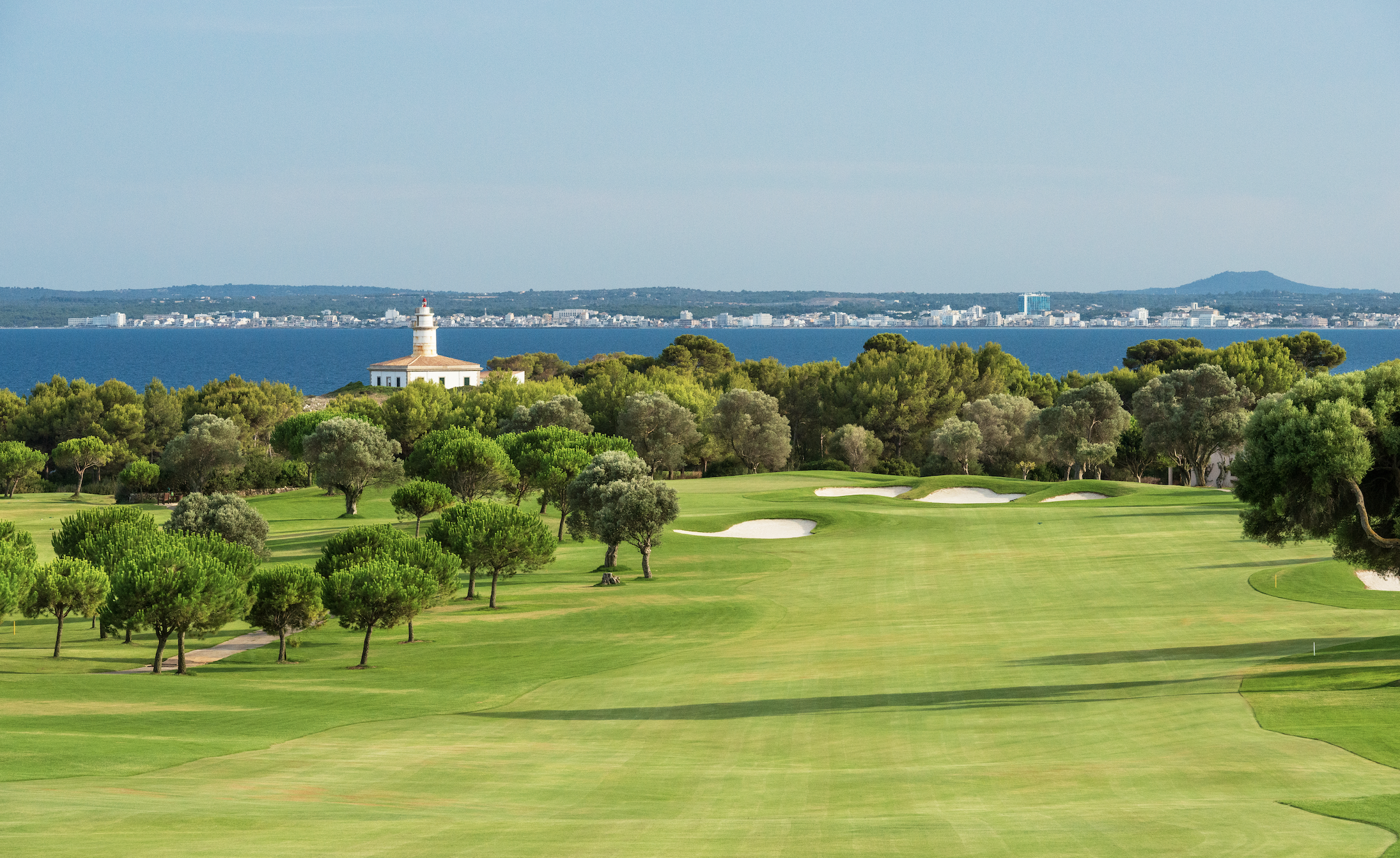 In case you were wondering what Club de Golf Alcanada is like to play, the location for this week's Challenge Tour Grand Final, we've got you covered. Have a look at the link above to find out all the key details.
VAILLANT PUTTER WOES CONTINUE
The Frenchman is really struggling with his putter. He's missed a handful of short efforts already so far, but he rolls a close one in to save bogey on six. As a result of that dropped shot, Vaillant has slipped to 21st in the RTM standings...
Lacroix and Penge tap in for par - they're nice and settled in the top-two positions on the leaderboard.
ROAD TO MALLORCA STANDINGS
The top-21 in the RTM Rankings is is an ever-changing situation, but here is how it stands around the bubble right now.
16 - Tom Vaillant
17 - Francesco Laporta
18 - Brandon Stone
19 - Max Rottluff
20 - Stuart Manley
21 - Brandon Robinson-Thompson
CUT-OFF LINE
22 - Sam Bairstow
23 - Julian Suri
24 - Benjamin Follett-Smith
25 - Jamie Rutherford
PENGE IN ACTION
The leader has put that early blemish behind him, and he's just been trundling along with pars ever since - that's all he needs to do.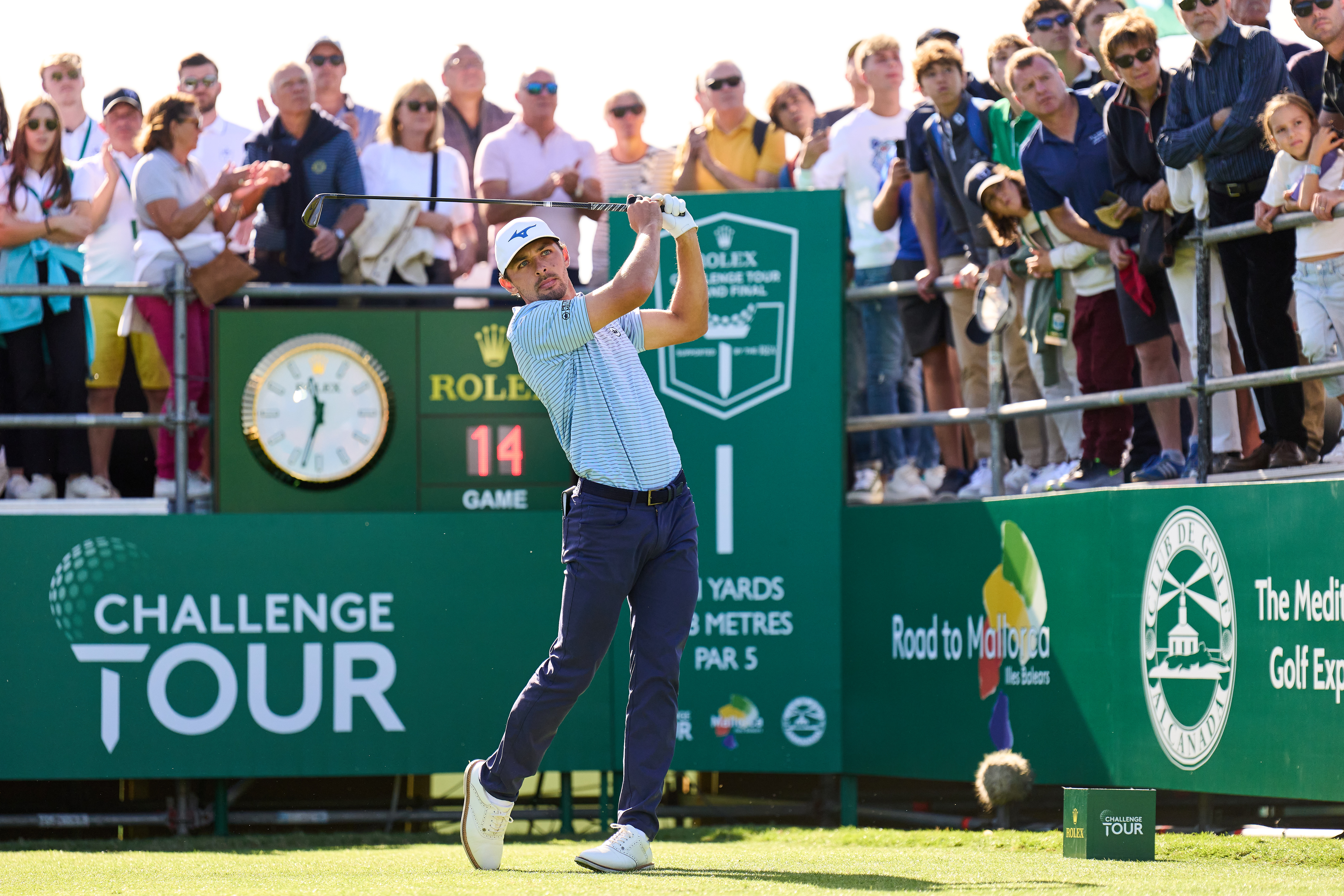 LEADERS FAIL TO FIND A BIRDIE
Penge, Lacroix, and Vaillant all had makeable birdie putts off the back of the fifth green, but none of them found the bottom of the cup. Vaillant - who has really struggled with the flat stick so far today - comes closest, but it's a lip-out and no cigar. As you were!
MANLEY MAKING A RUN
Stuart Manley is way down the leaderboard for the tournament, but the Welshman is showing some real grit and determination to make that top-21 on the RTM. He's strung three consecutive birdies together to push himself into the magic zone, but there goes a bogey at 16 to set nerves jangling again. Although he is 14-over for the tournament, his RTM projected ranking is currently 20th.
BirdieBirdieBirdie@stu_manley started the round outside of the graduation places. But after this birdie run he's now on course to get his 2024 Tour card.#RolexGrandFinal pic.twitter.com/J6nvHXWdMjNovember 5, 2023
GRINDING IT OUT
A lot of gutsy par putts are going in right now. Suri finds a clutch four on five, while Penge slots home on the third to make it two in a row. Unfortunately for Vaillant, though, he watches a close-range shot lip out. The Frenchman falls one back but is still comfortably inside the all-important top-21.
ROBINSON-THOMPSON DISPLAYS FIGHT
Robinson-Thompson endured a pretty torrid third hole, shooting double bogey as he criss-crossed the green. But what a response! Facing a birdie chance on the fourth which he had no real right to make, the Englishman fired a beautiful winding putt over a ridge before crashing into the pin and dropping in.
Robinson-Thompson is one of those just inside the DP World Tour cut line.
NO CHANGE AT THE TOP
All three leaders tidy up on the second to record a hat-trick of pars. Putting in this ever-increasing wind cannot be easy, but the two Frenchman and lone Englishman managed to avoid any damage.
GETTING READY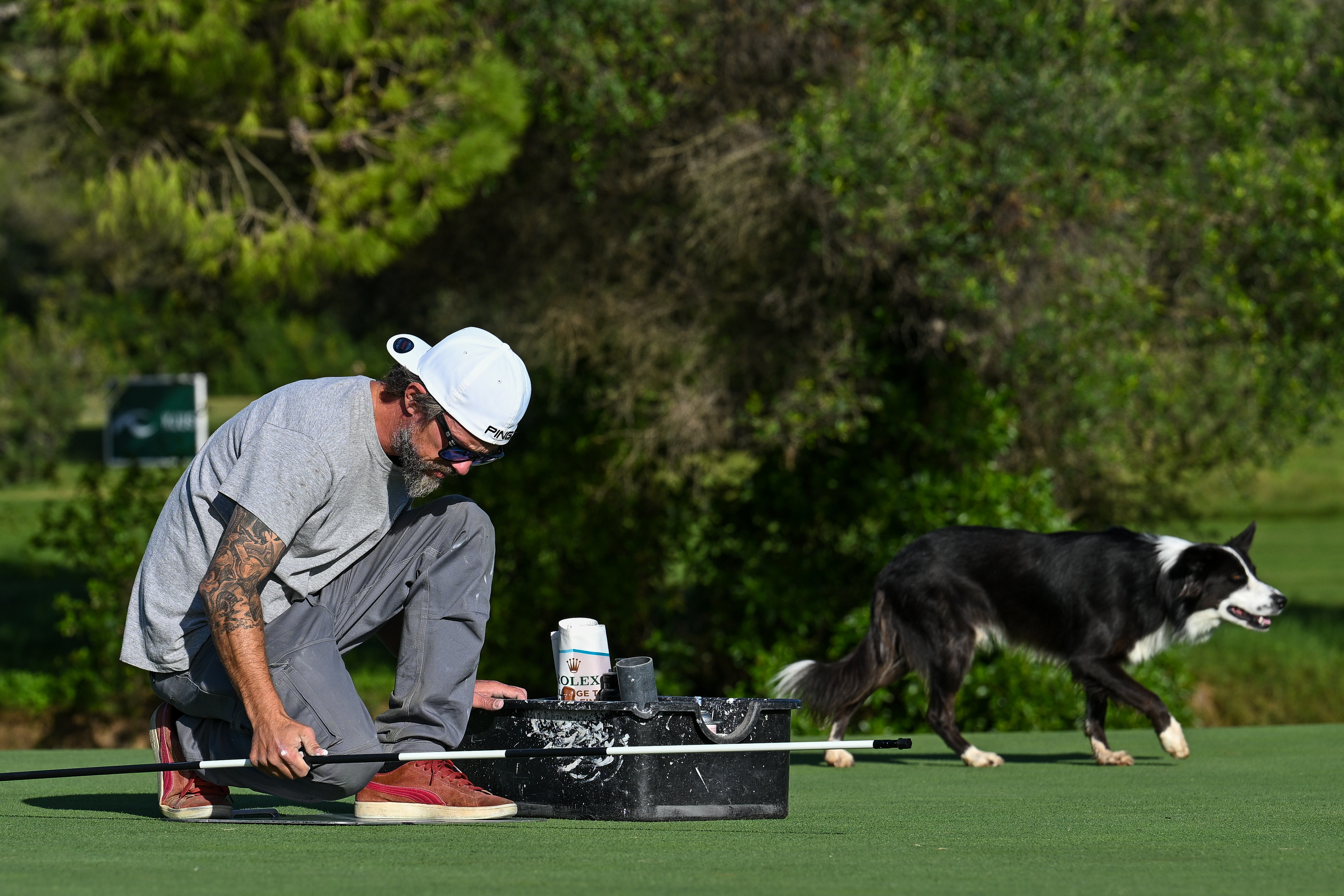 Here's a photo of some late green-keeping work being completed this morning. I can only presume the dog is there to round up some wayward sheep while the human staff paints and cuts the hole.
SUPER START BY SURI
American Julian Suri has made an eagle-par-birdie start as he looks to steal one of the final DP World Tour cards. He's currently 23rd in the rankings, but if he carries on this way then he'll be a shoo-in.
The wind is starting to really whip up now, and players are struggling to land approach shots. Brandon Robinson-Thompson has just watched his wedge shot spin back off the green due to getting caught up in the wind. His third shot flew over the green. Nerves and tricky conditions are playing havoc with some.
And that's the curse of the commentator coming true again. Suri found the heart of the green on the par-3 fourth, but went on to three putt and ends with a bogey.
CONTRASTING FORTUNES ON ONE
Vaillant faced a lengthy eagle putt from the back of the first green, but his down-hill putt somehow comes up short - even with the greens running at 10.4 today. The quickest they've been all week. An awkward length remaining for birdie. And he's missed. A three putt for par will frustrate anyone, but Tom will be seething about that one.
Penge skuttles his par-putt past, but that's a tap-in for bogey. A decent result, considering. 
And we save the best until last. Frederic Lacroix confidently pushes his ball into the hole for an opening eagle! 
LACROIX EAGLE AND PENGE PROBLEM
Despite missing the fairway with his drive way right, Lacroix drilled an absolutely brilliant iron shot into the short side of the green and has left himself maybe five feet  for eagle. That's the start you want to make! 
On the opposite side of the coin, Penge has pulled his approach low and left into the jungle. He's been forced into a drop and must get up and down to secure a par.
THE STAGE IS SET
The stage is set for the final day in Mallorca ????????#RolexGrandFinal pic.twitter.com/Vph7u5w5mbNovember 5, 2023
LEADERS UNDERWAY
Vaillant, Lacroix, and Penge have fired off their tee shots on one. A hat-trick of decent openers. Penge's was the best, though, rifling a hybrid low and down the middle which came to rest just across a cart path. Lovely stuff.
EARLY MOVERS AND SHAKERS
As the early starters approach and make the turn, only one player has reached three-under for today's play - and that score has been made by Ugo Coussaud, who sits in a tie for 33rd. 
The Frenchman is currently track to end the season third after suffering a disappointing final event so far, but if he can remain upwardly mobile then he will believe anything is possible.
American Julian Suri is at two-under for the day, but he needs to improve still on his T4 position if he is to secure a DP World Tour card - he's currently 24th in the RTM Rankings.
There are a lot of players throughout the field around the turn at two-under, so it seems like scoring will be possible today - even with those gusts still out there.
THE FINAL MAN
It's early days in Spain but, currently, Brandon Robinson-Thompson is the man occupying the 21st and final spot in the standings. He sits fourth in the tournament and is about to head out on to the course, with the likes of Rolex Series winner, Brandon Stone (20th), and Wales' Stuart Manley (22nd), his nearest rivals!
GOOD MORNING ALL!
Good morning and welcome to the final day's play at the Challenge Tour Grand Final where, in around five-to-six hours time, we will learn who will be plying their trade on the DP World Tour next year!
Currently, Marco Penge leads both the event and the Road to Mallorca standings but, with plenty of golf remaining in Spain, every shot will count. The leaders head off in around half an hour and, looking at the early scores, there appears to be a real mix of over and under par rounds taking place.
So, why not strap in for what is set to be an enthralling afternoon of golf, with the top 20 players in the Road to Mallorca standings earning spots on the DP World Tour next year...